Hello guys and gals, after taking some time off from the car scene and saving money haha, found a rare and solid car to build off of. After some good crypto moves, getting in decently early and selling high, used some profits to travel to some fun spots and buy a 100% stock & rust free 97 talon tsi awd 5 speed from Texas with 142k miles.
This is how it looked when I bought it.
[IMG]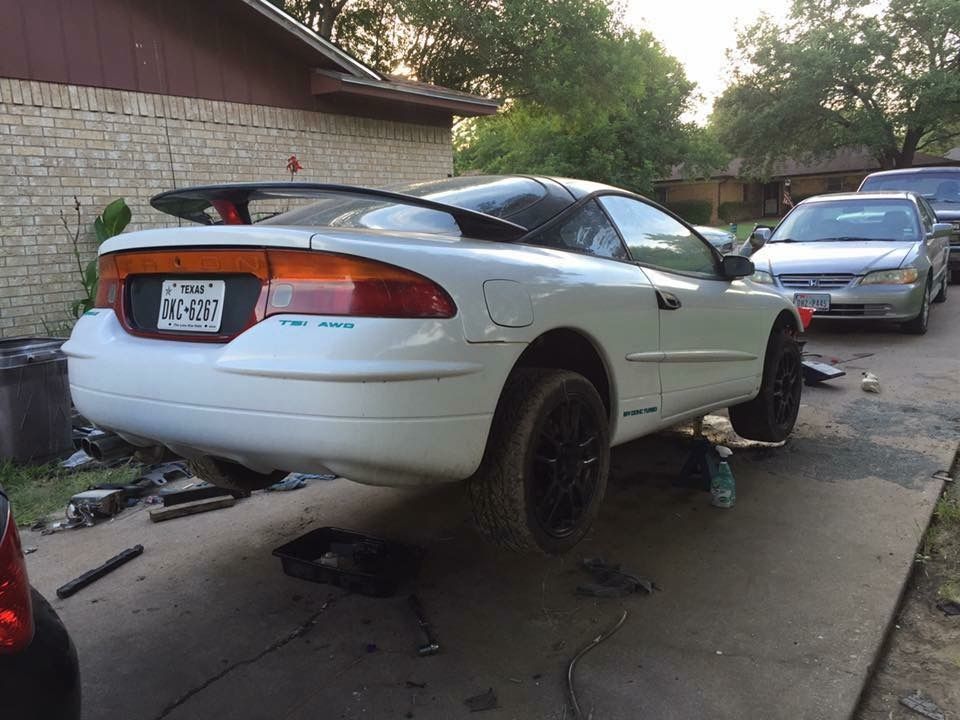 [/IMG]
[IMG]
[/IMG]
[IMG]
[/IMG]
[IMG]
[/IMG]
[IMG]
[/IMG]
[IMG]
[/IMG]
[IMG]
[/IMG]
The guy wanted way too much for the evo 8 wheels so he threw on the stock swirles to knock the price down. Car had zero issues, drove it back 5 hours from Milwaukee without any issues.. except.. a few things lol. The owner claimed he never locked the doors.. my buddy and I stayed the night and hit the bars down there for the night and got a hotel so I locked the car. Walk out the next day and can't unlock the car. Apparently the previous owner before him got a d dub and had to change the ignition so the locks for the doors are different than the ignition. $60 later had the car unlocked and started the journey home. Then came the scariest moment in my life..
Two hours into the drive the driver's front wheel came off while I was going 70 mph and I slid a mile and luckily was able to steer to the shoulder. The wheel rolled to the other side of the highway and hit a car on the other side of the highway head on and totaled her car. Luckily she was not injured at all. I take blame for not double checking the lugs and torquing them, but after telling the guy he swore he torqued them all to 90 ft lbs. Had to get it towed to a local shop since I was three hours away from home and dont have a hitch on my daily and they said almost all the lugs on all four wheels were loose. So I call BS on him torquing them.
Luckily I only had to replace the rotor and studs in order to drive it home, and bring a set of wheels since the one that came off was destroyed. Need to replace the lower control arm as well since it slid on it during the three wheel journey. Also, the guy failed to inform me that the car had no front seat belt locks until I arrived in Milwaukee.. So this all happened wearing no seatbelt.. thank gawd this happened on a straight highway. I don't know how, but the front bumper was totally fine, just f'd up the driver's fender.
Anyways, I drove her home the rest of the way with no issues. Started stripping the bay to clean it and prep for paint. My boy Vader helping getting ready to pull the engine, what a good boi.
[IMG]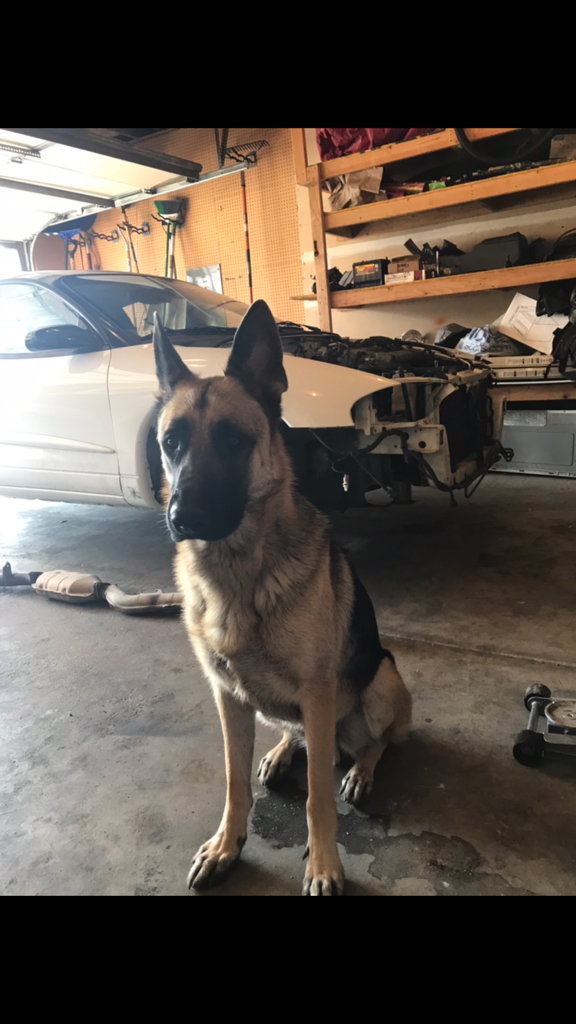 [/IMG]
[IMG]
[/IMG]
The 7 bolt long block with stock turbo is for sale if anyone is interested, no issues at all. Two days ago mark4g63t and my buddy Mason came over to help pull the engine since this was my first time doing so.
[IMG]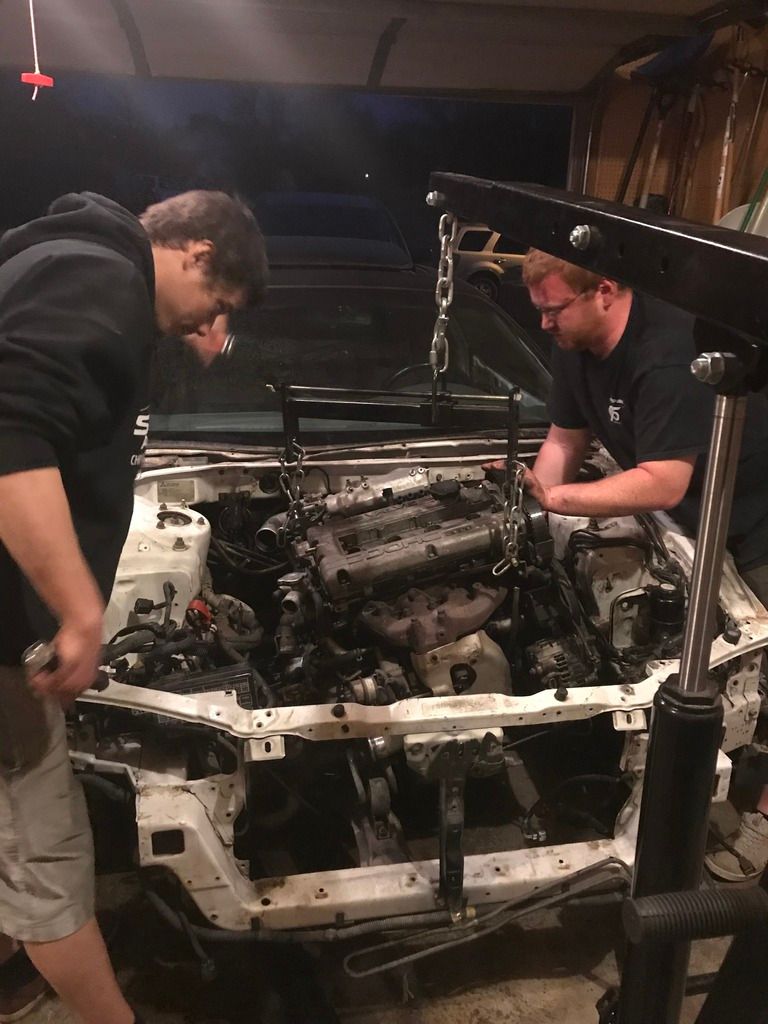 [/IMG]
After removing the engine, I removed abs (will be getting the stm delete kit) and almost everything else from the bay in order to degrease, power wash, and sand the bay.
[IMG]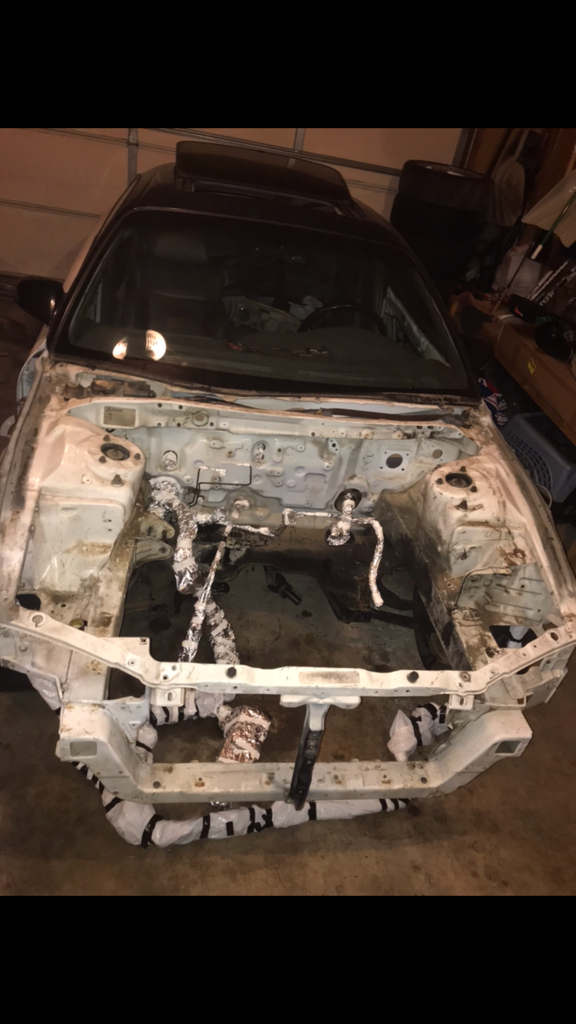 [/IMG]
Today degreased, power washed, and sanded and I got her all ready to prime (I think anyways? Haha.. going to let it dry for a week or so before doing so. Is that enough time or over kill? I'm in no rush). I have no experience in prepping nor painting so would love some tips if anyone wants to chime in.
[IMG]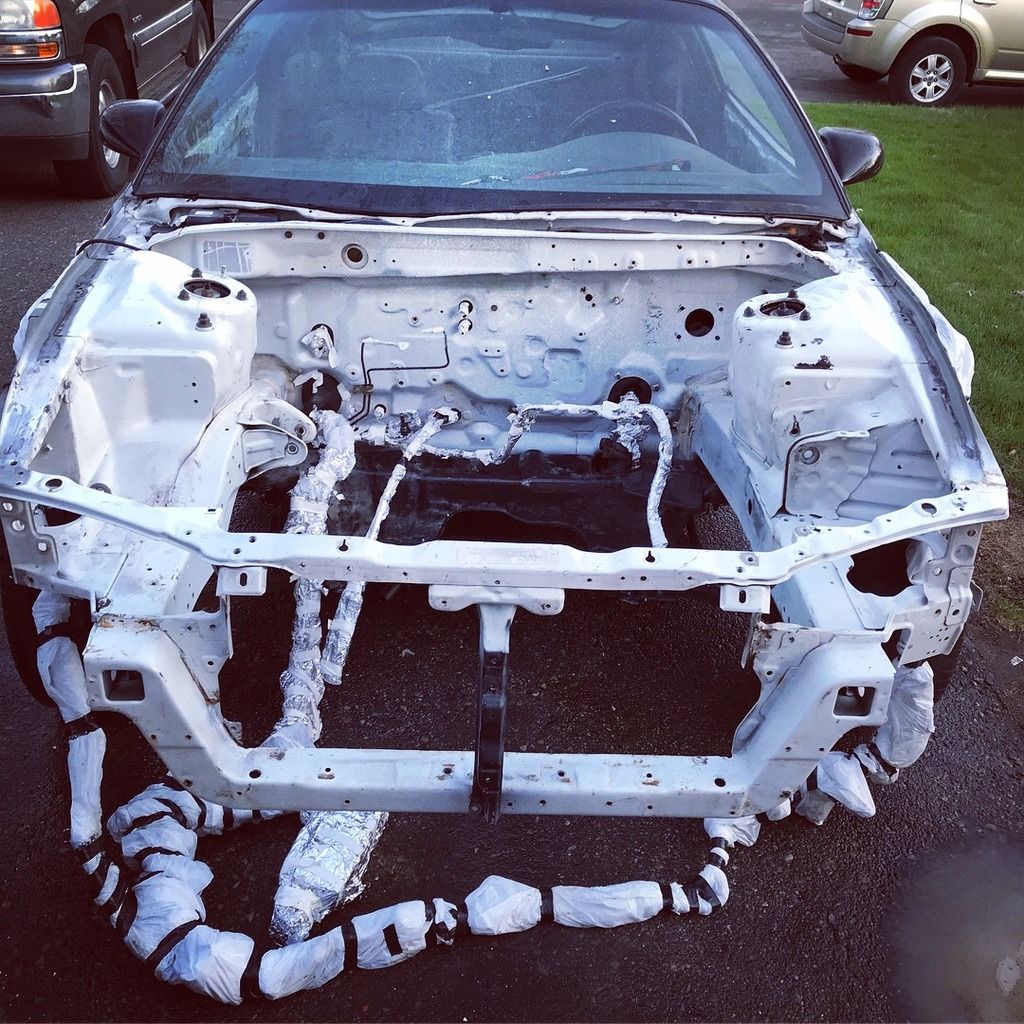 [/IMG]
Going gloss black for the bay.
Also threw on the flex fuel badge for motivation (the e tape is temporary lol, getting a carbon fiber hatch).
[IMG]
[/IMG]
Now the build:
Currently communicating with archer fabrications and he is making me an external o2 housing for a mvr wg and is fabing a custom tear drop hood dump for me. Buying a new fp black and fp manifold this week through him and having it shipped to him so he can bolt it up to make my 2.5" to 3" tear drop side exit exhaust. Exactly what I'm going for:
[IMG]
[/IMG]
[IMG]
[/IMG]
While I was at the dmv today transfering the title I decided to go ahead and get a fun plate:
[IMG]
[/IMG]
Hoping to make around 600 awhp on a 2.3/black/e85 so the setup should suffice to back it up for most encounters, but I'm sure I'll run into some bad mofos on the streets and they will get a good laugh. Going for 9's next year.
While I wait for those goodies I will be on the hunt for a fresh or very low mileage built 2.3 6 bolt/2g head and all the other necessary supporting mods. Thanks for reading, will update soon frequently!